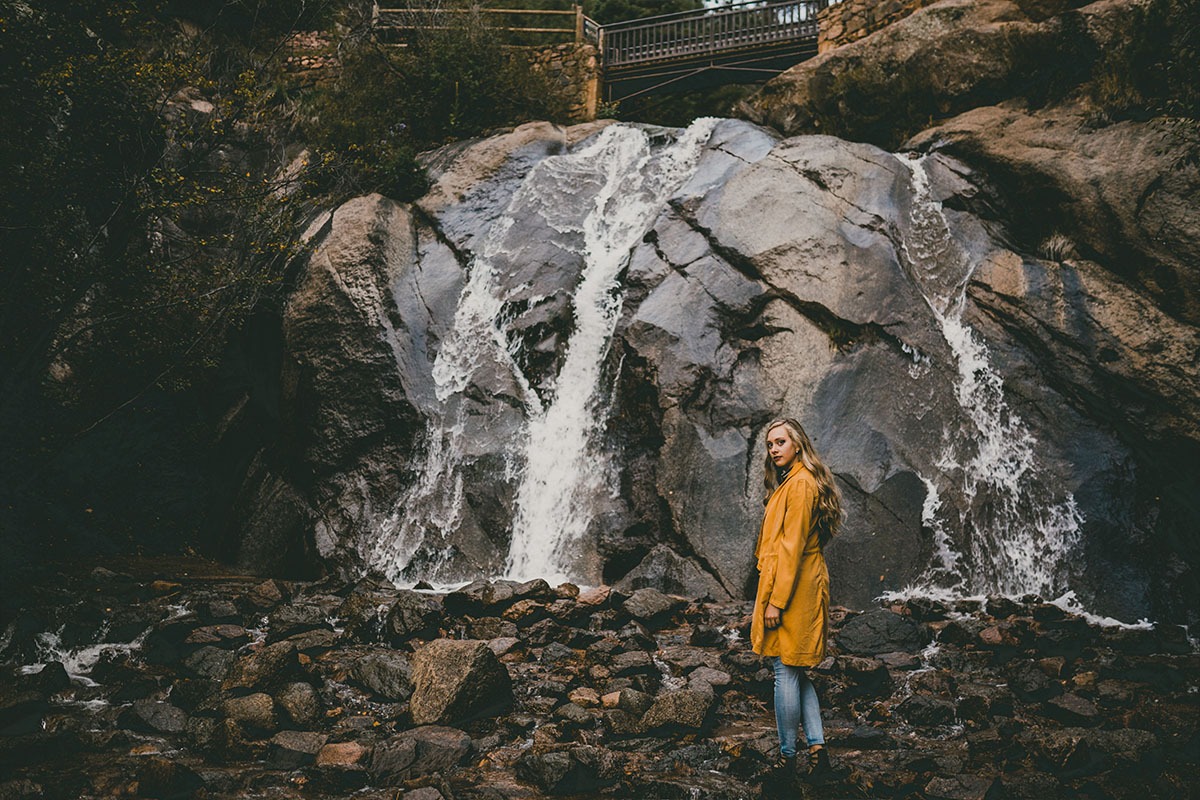 Dear Laynie,
I am so honored to have been able to photograph your senior portrait adventure. You are the kindest, most compassionate, and the most beautiful sister anyone could ask for. No matter what, you are always there for anyone. Everyone always feel genuinely loved when you're around. You are incredibly talented in more ways than one. Your voice brings joy to anyone who listens to you sing. When you're on the theater stage, everyone is drawn to your beautiful smile and wonderful presence. On the basketball court, your dedication and drive inspires your teammates. You put your all into everything you do, which is such a beautiful thing. I cannot be more proud of where you are, and I cannot believe you are already a senior! You will always be 12 to me!
I am also so incredibly grateful for how close we've become over the years. Spending time with you is always a blast, especially our little karaoke nights and hiking adventures. I also love that you always introduce me to the new "hip lingo," and when you spill the "tea." Our late night conversations never get old, and I definitely know you'll miss when I come into your room in the middle of the night and wake you up;).  I definitely don't know what I'm gonna do without you when you are out living your life away from home! You will definitely missed so much! I love you Laynie!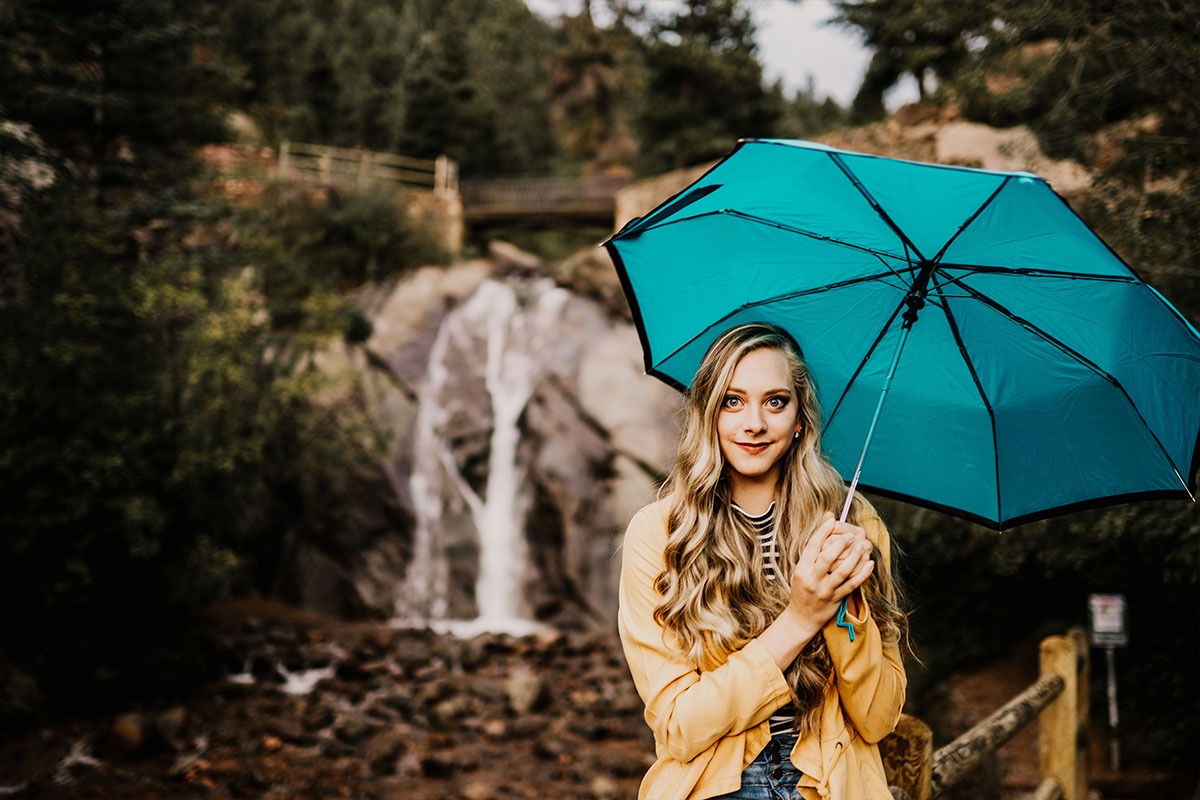 "SHE OPENS HER MOUTH WITH WISDOM, AND THE TEACHING OF KINDNESS IS ON HER TONGUE." PROVERBS 31:26
DOWNTOWN
For Laynie's senior portrait adventure session, we wanted to travel around and get a ton of different locations and looks. During the first part of her session, we went around Downtown Colorado Springs on a beautiful August evening. You could feel the warm summer air, and the wind definitely added some drama to the photos. The wind was blowing through her gorgeous long hair. We also got a classic "Marilyn Monroe" shot, and we didn't see anyone around, so hopefully we didn't flash the public!
For her senior portrait adventure session, she bought this adorable striped dress, and it looked so amazing! She looked so sophisticated. We wandered around the north end of Tejon, and I just loved all the architecture. Some of my favorites were also of her strutting down the street in those heels.
"SOMETIMES I FEEL LIKE THROWING IN THE TOWEL BUT THAT WOULD ONLY MEAN MORE LAUNDRY FOR ME."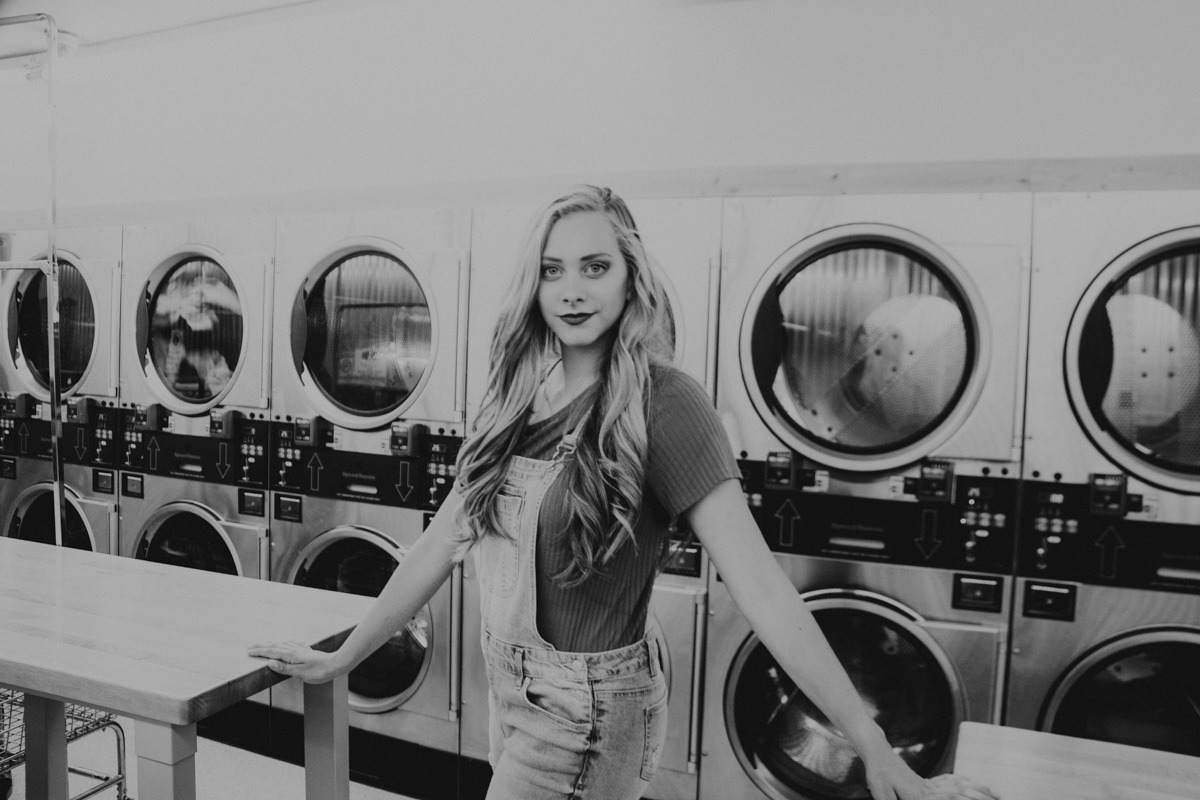 Then, we were driving down Platte, and I saw a local Laundromat. Her next outfit was an adorable pair of overalls, so I thought that would be a perfect location! The lighting in the mat was actually surprisingly awesome! I also loved working with all the different backdrops and shapes from the mat. I especially loved the circles to frame her face from the dryers!
One of Laynie's prized possessions is her adorable little orange car. His name is Gillmore. (My car's name is Happy. Happy Gillmore is always a good movie.) She definitely loves that car, so of course, we had to get some photos with him!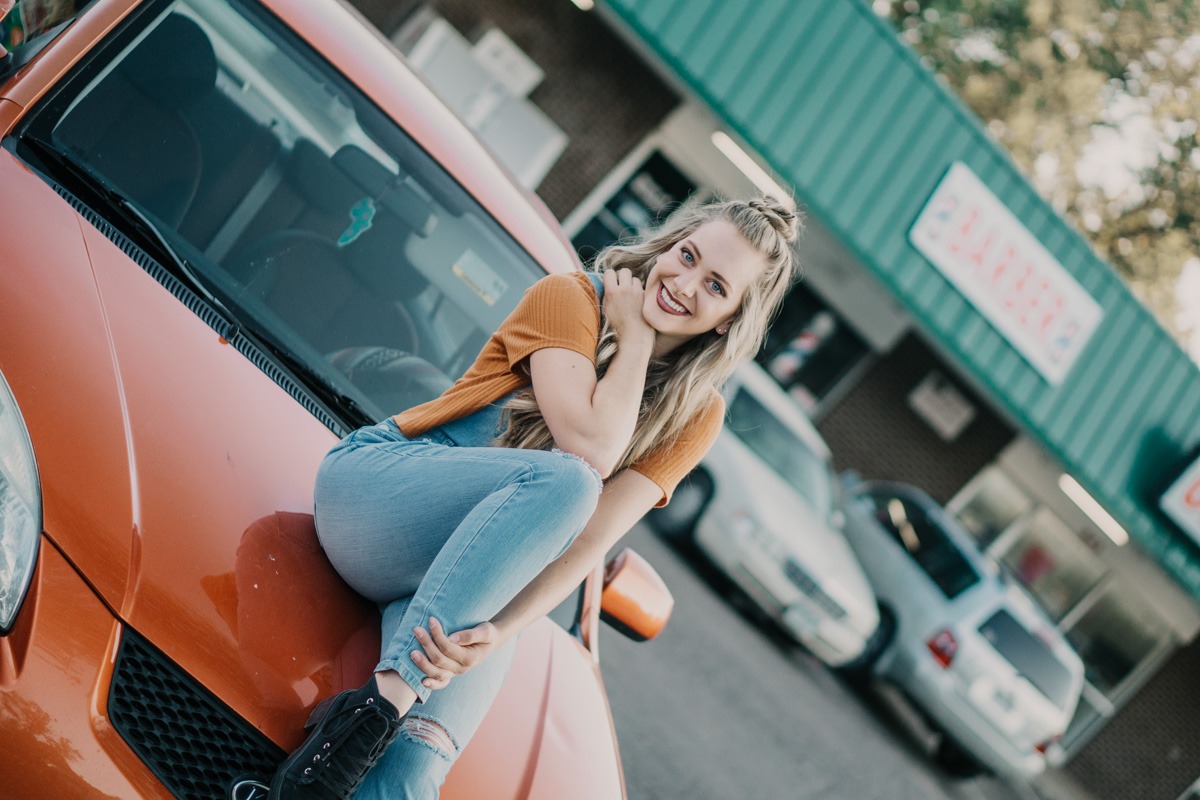 "YOU ARE ALTOGETHER BEAUTIFUL, MY DARLING; THERE IS NO FLAW IN YOU. "(SOL. 4:7)
Then we headed over to BJ's Velvet Freeze for some ice cream. Before we indulged in our sweets, we stopped over at the nearby Christian book store. Laynie also loves to read, so we took some pictures with the books. She is also an amazing Christian woman, so we took some pictures with the window text, reading "Pray, Pray, Pray."
Laynie's one love is ice cream. A couple summers ago, she ate 6 ice cream treats in one day. If she ever had to pick a dessert, anyone would know it would be ice cream. How could we not feature this delicious treat in her portraits? From BJ's, she got a blue raspberry twist, and wow did it make her eyes pop! The contrast between her orange shirt and the bright blue cone was also so awesome!
We then shot some more images around the parking lot, at BJ's, and the other shops. I just loved the bright orange barrels and bold red walls! Laynie's little top knot looked so cute! I love when she wears her hair like that! Between the fun shoes and the ripped up overalls, I completely loved the grungy vibes! Laynie totally slayed this shoot!
For dinner, we went to Leon Gessi's right next door, because the wonderful smell of pizza was too much to pass up. Of course we had to also get some photos with the food! Before we ate, I also got some window shots of Laynie, which I totally love! The reflections always look so dreamy, or maybe Laynie was just dreaming of pizza. Who can say!
Glenwood springs
A couple days later, we adventured up to Glenwood Springs. Our friend, Ashlyn, was visiting from Texas, so we met her up there! We had such a fun day exploring the beautiful town! Glenwood was definitely too pretty to not do some of Laynie's pictures there! She started off in a beautiful, red/pink dress that just popped so beautifully off all the greenery. We also found a beautiful staircase with an overflowing of plants and trees.
Then, we headed off to lunch, and while we were waiting for our food, there was a super fun alley right outside, so we took some more photos! I loved the natural light. It had a little bit of a dramatic feel, which was so fun. If you ever find yourself up in Glenwood Springs, definitely check out Smoke Modern Barbecue, their macaroni & cheese is too good to pass up!
" JUST LIVING IS NOT ENOUGH… ONE MUST HAVE SUNSHINE, FREEDOM, AND A LITTLE FLOWER."
HANS CHRISTIAN ANDERSEN
Laynie also absolutely loves flowers. One of her top ideas for her photos was to be with yellow flowers, and we just happened to find a little grove with them in bloom!
Earlier that day, we tried to hike Hanging Lake, but the parking was CRAZY! We had slowwwly driven around the parking lot, trying to find a spot. Between getting cut off, witnessing close to a crash, and not finding a spot, we decided to do it later in the day.
When we arrived the second time, the parking lot was almost completely empty, so we were all pumped! We set out on our hike up the rocks!
Wow, there were such gorgeous areas for photos! I loved the dramatic lighting with the rocks on the way up. The beautiful blues of Hanging Lake were to die for! When we were about to go back down, some people came up to us and said that we must go up the other trail to the top. We complied, and we walked up some more to find the waterfall pouring down. It was amazing. We could actually stand almost right under it! It was absolutely breathtaking!
Laynie was also feeling quite adventurous on the way up and hiked up along the mossy rocks and little trickling waterfall. These photos are my absolute favorites from the day. The landscape was so gorgeous. (I actually got a metal print of one of these, and it looks so magical; the colors were so beautiful!)
NORTH CHEYENNE CAÑON PARk
A couple weeks later, we finished off Laynie's senior portraits at North Cheyenne Cañon Park. I actually did her makeup on one of the benches right before we started shooting. Laynie had just bought this lovely little blue dress for only $7! It was so cute! Laynie always looks so beautiful in blue! It makes her eyes pop!
The landscape was also just gorgeous! Fall had begun, and the trees were amazing! I love all the different little places! Rocks, trees, bridges, fences, and creeks galore! One of my favorite spots is one of the trees that fell over. It always frames the subject so perfectly!
"FALL HAS ALWAYS BEEN MY FAVORITE SEASON. THE TIME WHEN EVERYTHING BURSTS WITH ITS LAST BEAUTY, AS IF NATURE HAD BEEN SAVING UP ALL YEAR FOR THE GRAND FINALE."
– Lauren Destefano
Then, we traveled up the road a little and found fall colors galore. The little baby trees were all changing colors! Laynie changed into this awesome yellow jacket, and I loved how it complimented all the yellow leaves! It was so pretty! This was also one of my favorite outfits Laynie wore. You can never go wrong with black and white stripes with jeans!
Then we adventured to Helen Hunt falls, where it started to rain just a bit, so we brought out the blue umbrella! Just like with the ice cream, don't her eyes just pop? I also always love the falls. The water rushing, crashing down on the rocks, wow, it's just beautiful! Laynie's yellow jacket just popped so beautifully against the grey and neutral tones of the rock! Laynie definitely adventured amongst the rocks to get some of these shots. She looked so beautiful!
At the end of our session, Laynie and I definitely got a bit clumsy. When we traveled up to the top of the falls, I was hopping the fence, and my foot got caught between the bars. I tripped a little. Then when Laynie was standing on one of the rocks, she wobbled and almost fell down! We had some laughs, and it was definitely apparent that it was probably almost time to be done.
I really loved the colors in these last photos! Also, I thought the shoes were absolutely adorable on her. We are almost the same shoe size, so I actually bought these for me a couple years ago. They were a little small for me though, so they became one of Laynie's go to pairs of shoes!
I absolutely loved being able to photograph Laynie's adventure senior portraits! She is such a beautiful woman inside and out and I am so proud to be able to call her my sister.
CONGRATULATIONS, LAYNIE!
YOU'RE A SENIOR!
I hope you have the most incredible year in everything you do! Musical, basketball, and all the fun senior events. Make every day count; it goes so fast!
I love you so much!